"
My Dune....you are no God of Death...you are my Guardian Angel..Dune, Live On
"

—Luna
The God of Death Dune (死神ドゥーン, Shinigami no Dūn) is the fifteenth episode of Casshern Sins. It originally aired on January 14th, 2009 and the Funimation dubbed version on September 2nd, 2012.
Many robots across the planet suffer from the Ruin, they seek to escape this fate by searching for Luna but there is one who searches for her for a different reason, to serve her. This man is Dune, a fallen guardian angel searching to regain his past by finding Luna, the one he cares about more then any other. There is a group who looks for Luna for different reasons aswell, Casshern, Lyuze and Friender search for Lyuze for answers, to the past events that have litterally destroyed the world. The two forces cross paths, Cassherna and Lyuze and the two are inspired by the man's will to live. This even gave Lyuze an insight to further understand Casshern who explains that he has someone to protect much like this man (Dune).
With that, Lyuze realises this man is infact, The Death God himself Dune. Lyuze explained to Casshern that Dune was Lun'a most powerful guardian with a feared reputation, he was also the one who loved Luna more then anyone else. Bandits interrupt Lyuze's reminesense and try to devour Casshern, openly announcing it allowing Dune to wake up and realize Casshern's identity as the man who killed Luna. Infact, Dune was present during her deatha and swiftly tried to kill Casshern in a blind rage for vengence, only resulting in Dune's discraceful first defeat by Casshern's hand, leaving him incapacitated alongside a lifeless Luna.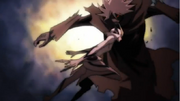 Unlike Casshern, Dune is enraged by his memories and repeats his past mistake by attacking Casshern in an attempt at vengeance. Though, this time Dune is able to best Casshern in his sanity until Casshern also turns to rage to skillfully retalliate. Lyuze stands by only hoping the two will cease fighting as they seek the same goal. Casshern is able to defeat Dune without going as far as ending his life, even so Dune refuses to forgive Casshern for killing Luna. Before Dune tries once again to attack Casshern in vain, Lyuze tells him that Luna is alive, also stating her own confirmed belief in Luna.This news drives Dune to forget his vendetta and even reveal that he only wishes to be with Luna, and that this far outweighs his hate for Casshern, allowing Dune to move on towards his love, towards Luna.
"Maybe people tend to develop their weekness'...when they protect someone other then themselves" - Casshern
"I want to live....I want to hold something in my hands, and feel its warmth" - Dune
"Casshern! You are my enemy, my nemesis, Luna's Killer!!...My SCOURGE" - Dune
English Cast (In Order of Appearance)
Edit